As sweet as its name suggests it to be, this Indica-Sativa hybrid is nothing short of good vibes in a fist.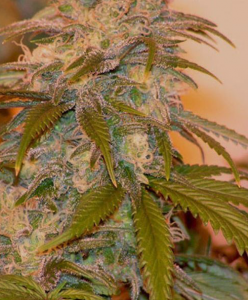 These quirky strain is more than capable of making you one of the most liked people around. Even though it is a little difficult to grow, the fruity flavor and a high that can last up to 3 hours is more than enough to make up for the trouble it causes growing up. The flowering phase takes no more than 7 to 8 weeks but these seeds require some tender love and care in order to give you the amazing sense of bliss and euphoria you are seeking. Banana Kush is an Indica heavy strain but the cross between Ghost OG and Skunk Haze makes it one of a kind. From Haze, the Banana Kush gets its mellow flavors while Sativa gives it's the long lasting buzz that it has going for it.
It's relaxing and therapeutic effect is generally sought out by people after a long day at work when they looking to kick back, relax and have a good time with their friend or party the night away. But, when you need it to be, Banana Kush can come in real handy in helping your creative juices flow. This is the best of the both world and it ain't going to get any better.
Where to buy Banana Kush marijuana seeds?
| | | |
| --- | --- | --- |
| Seedbank | Seeds |  Price |
| | 10 Fem | USD $119 |