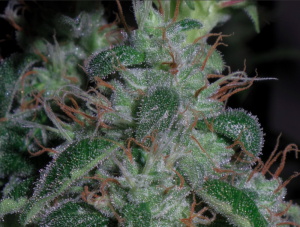 Cookies Kush, the name alone makes the produce from these seeds sound yummy and alluring at the very same time and why shouldn't it. This strain is made from the combination of some very unique strains called the OG Kush and Girls Scout Cookies, giving this plant the very strong earthy aroma as well as a pungent smell with a hint of undeniable sweetness.
This strain has been termed as the rolex of Cannabis, earning it the much coveted first place in the High Times Cannabis Cup in 2014 held in Amsterdam as the "Best Coffeeshop Strain" that year.
These seeds produce female plants exclusively, and produce exceptional yield even as a result of indoor planting. Unlike most cannabis strains, these plants complete their flowering phase relatively quicker and produce excellent yield. The plant is more than capable of thriving in both hot as well as temperate climate and is not very hard to handle even by first time breeders.
Cookies Kush is seen to have a very relaxing and calming effect on its users which is why it is rated as one of the very best strains available today. Even though it has intermediate THC levels but it can give its users the much-needed sense of euphoria they have been looking for. This strain also does wonders for its users appetite, which makes it quite popular amongst cancer patients, especially the ones going through chemotherapy.
Cookies Kush also works as an excellent stress reliever and can import a sense of calm on its user, making it an all-around amazing strain.
You can buy Cookies Kush seeds by one of the seed banks below:
| | | |
| --- | --- | --- |
| Seedbank | Seeds |  Price |
| | 10 Fem | USD $59 |