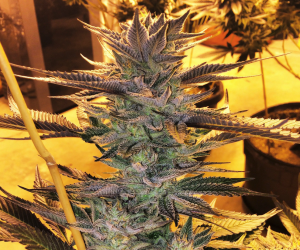 Blue Magoo is extremely similar to the Blue Goo seeds but they are completely different at the same time. Blue Goo is a clone-only hybrid mixture between two of the best strains out there i.e. DJ Short Blueberry and Major League Bud, which is also known as William's Wonder F2. It was first grown by the Oregon Producers from the 1990s. A blend of berry, fruit and some other floral fragrances make up the unique aroma and create taste that is equally beautiful and refreshing as the purple and green buds of the plant itself.
Blue Magoo seeds have a wide range of application in the medical field. The reason for that is that these seeds can cure a bunch of symptoms such as pain, anxiety, aggression, insomnia and even loss of appetite.
Blue Magoo, apart from their medical applications, are also used by individual to reduce stress. Another quality that sets these seeds apart of the slight sativa kick that sets off the indica flavor. Unlike some other seeds, the Magoo isn't meant to give you a good night's sleep. It does the exact opposite; the sativa keeps your eyes wide open so you can delve deeper into the relaxation of the marijuana rather than just drifting into a deep slumber after a few short minutes.
The Blue Magoo starts flowering in 55-60 days and it grows an average height of about 1.5-2.0 m. Blue Magoo always grows in a zigzag vine rather than a straight vine. It's a pretty colorful plan with long petioles, strong sweet aroma and crystal/snow coated leaves that are just a joy to look at.
Where to buy Blue Magoo marijuana seeds?
| | | |
| --- | --- | --- |
| Seedbank | Seeds |  Price |
| | 10 | USD $72 |