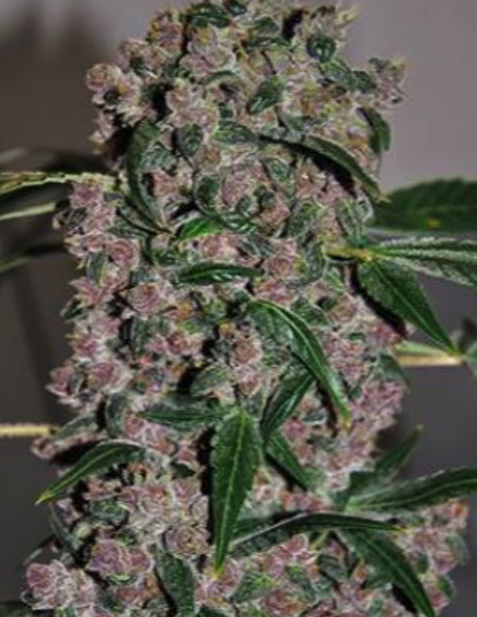 The seeds are very much used for medical purposes as well as for pleasure.
With it's high THC level of above 20% and it's purplish colored buds the strain has become very popular amongst professional growers.
It can help again depression, aches, stress and sleeping problems.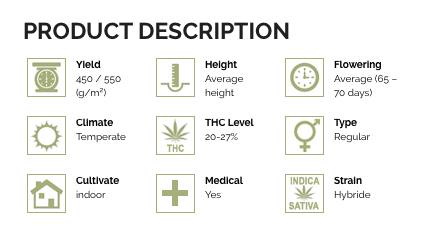 It has a chocolatey taste to it and an minthy after taste. That's why they come up with the name girls scout cookies 🙂 It's rather short plant with a short flowering time. It produces nice big crystal buds that turn purplish at the end of the flowering period.
The flowering period is between 65 – 70 days and produces around 450 / 550 grams per m2. Mainly to grow indoors but in summer time outdoor would be possible but not optimal. It's a good for medical patients and it's an indica / sativa hybride. The seeds are regular.
Won the Cannabis Cup
Girl Scout Cookies, commonly referred to as GSC is a cross between the legendary OG Kush and Durban Poison. First bred in California, GSC's THC levels are the sole reason why this strain has won several awards in the Cannabis Cups.
Great Flavor and Taste
If it isn't obvious, the name represents the chocolaty taste with a minty undertone. Some users even taste a bit of berry like sweetness while using this strain. The only downside of this strain is the fact that it is not high yield producing plant. But what it losses for in yield, it does make up for in flavor and an amazing and long lasting buzz, the sort that just keeps on giving.
Perfect for Indoor Grow
This is an excellent strain to grow indoors, since these plants grow to an average height that can easily be contained in an indoor setting although this plant can perform just as well in an outdoor setting.
Euphoric effects
Some phenotypes like Thin Mint and Platinum Cookies can have different appearances and euphoric effects. Most smokers use this strain for it 27% THC content and low CBD that can help to cure numerous mental diseases.
Good Medical Use
If you're suffering from depression, lack of appetite and insomnia, then this weed can do wonders for you. Not only does it release stress but it is known to elevate the mood of people that use this strain on a regular basis and is even known to help you sleep a whole lot better, even if you didn't have insomnia in the first place.
Long Lasting Effect
Additionally, its affects are pretty long lasting, which makes smoking this strain pretty worthwhile.
Where to buy Girl Scout Cookies marijuana seeds?
| | | |
| --- | --- | --- |
| Seedbank | Seeds |  Price |
| | 10 Fem | USD $139 |
---
GSC Seeds for sale from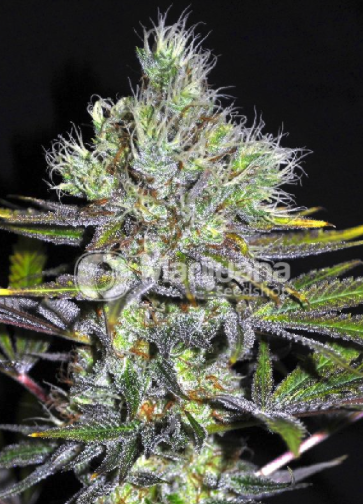 With a strong smell and a great buzz this strain is the ultimate energy keeper. A sweet taste with an earthy base. It's much loved the those that have tried it. The reviews are 5 out of 5 stars from the reviewers that submitted a review to the site. The seeds are selling for $93,92 for 10 seeds at the moment of this writing. It can increase it's yield up to 750 per square meter and can even grown outdoors. The height of the marijuana plant will be 120 cm and outdoors up to 240 cm. Flowering time is listed between 8 and 9 weeks. Sativa is mainly dominant here with 60% and 40% left for the indica. Check the reviews and ratings and you will be wanting this popular strain one day. Check it out on Marijuanaseedshop.com A trusted companion from us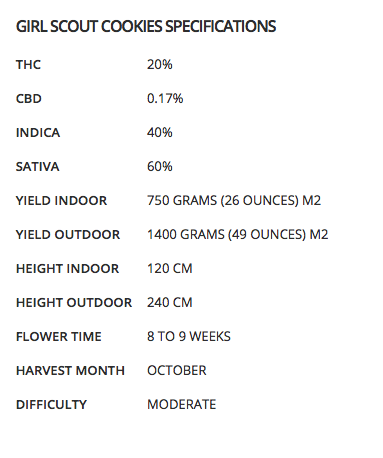 ---
The Best GSC from
Marijuana-seeds.nl is selling these for a long time. It's a very popular strain and this particular bunch of seeds are feminized that saves you the hassle of removing the males and the chance of producing seeds in your buds as you don't want that. 17 reviews giving it a 5 star by their previous customers. It's a bit pricy.. it is for sale for around $110 for 10 seeds. You can trust this seedbank as it is in business for over ten years already.
Ilovegrowingmarijuana seedshop has been around for a couple of years and has become one the most popular seed banks around these days. Affordable prices and good customer service makes it a trustable online shop for many. These seeds are one of the best sellers and you can buy 10 feminized seeds for around $139 at this time of writing. 6 customer reviews giving it a 5 star rating. Be sure to check them out.
---
Here's an information video about the girl scout cookies strain on Leafly.com – Featuring over 400 ratings.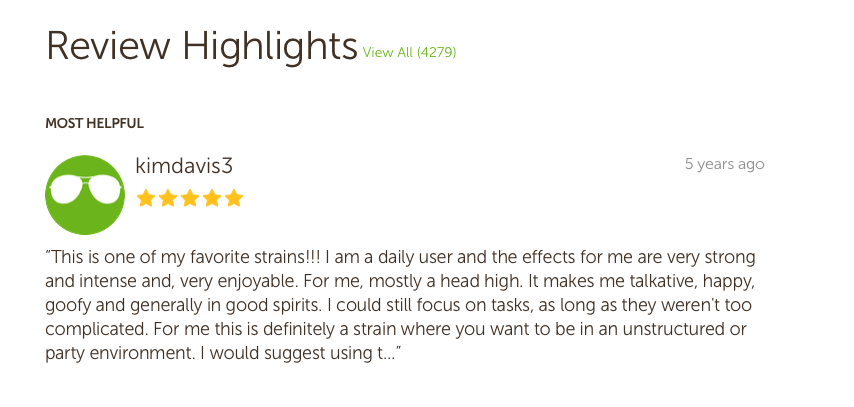 ---
Girl Scout Cookies Seeds
Origins
Girl Scout Cookies, or more commonly called GSC, was born on the West Coast. However, this quality marijuana was just too great to stay within the boundaries of California. The seeds come from a Durban Poison and the world renowned, OG Kush.
This strain started off in the midst of controversy. Some people debated that the name "Girl Scout Cookies" might be an attraction for children. Back in 2016, marijuana was completely banned by the Oregon Liquor Control Commission along with about a dozen more strains (Candy land, Cinderella, etc) because they were a little too sweet and they might gain an audience among children. However, this setback proved to be a minor one for the monster, known as GSC.
Breeding
The plant can be grown both indoors and outdoors. In outdoor cultivation, the plant needs warm and humid temperature. But, it can hold pretty well in changing climates as well. Indoor growing can be more convenient because the plant is short and bushy. You can grow this strain from seeds or from clippings taken from other plants.
The breeding is usually easy for first time breeders as well as seasoned breeders, alike. The branches on this plant need a lot of extra support to remain upright, thus you might need to tie them up and render them a whole lot of extra support to make sure that this plant survives. Or, the branches will snap under the weight of the flowers.
Once the process of breeding is done, the buds have to be cured with great care. The first step is drying the buds by suspending them for a week in a room with 50% humidity and a constant temperature of 21 degrees Celsius. Then the dried buds are sealed in wide-mouthed jars that have the same temperature and a humidity of 65% humidity.
Flowering
The flowering process for GSC can take about 9 to 10 weeks. Cultivators can expect an average yield of 2 ounces (56 grams) per plant.
Characteristics
Girl Scout Cookie is a highly potent strain that has an average THC content of 23% but it can go as high as 28%. This strain also has a bunch of phenotypes. Some of those are Thin Mint and Platinum Cookies. But, they are different from GSC in terms of effect and appearance.
This plant is likely to have larger and chunky buds. The leaves are tightly packed with a spring green color. Some phenotypes can also have stripes of purple and blue. The buds have an insanely high amount of resin content. They are also covered with a thick layer of trichomes. The buds can be difficult to split by hand.
Girl Scout Cookies are very aromatic. You can clearly smell the mint and chocolate but there is also an earthy undertone. The taste leans slightly more into chocolate but there is a ton of fruity taste as well. It will give you a taste similar to some fancy dessert or cookie dough. That is why the strain is named after a pretty decent dessert.
This strain hits you right in the face. Don't be fooled by the innocent name, the high THC will give you all you can handle. The starting effect is slight giddiness which then develops into complete euphoria. This weed is great to be used for socializing because it will drastically increase your interest in people. The marijuana also elevates your senses. It can increase hearing and sight. Or it might just increase your attention to your surroundings. It "brings your taste buds to life". The foods you eat will have much better flavor than before. GSC will enhance as well as calm your mind. It will help you focus but it will also numb your body. The strain won't induce full on couch lock but it will be enough to relieve any pain. However, you will have trouble doing things that require accuracy. It won't be a problem unless you're Picasso and want to get to work right after you smoke a joint.
Unlike most strains of cannabis, especially with a THC level as high as the one GSC has, its users have faced almost no downsides from the strain, even with daily use. The typical dry, cotton mouth feeling is a given, just like with any other strain of marijuana, but other than that any other common downsides of marijuana use like dizziness and dry eyes are also minimal.
Medicinal Use
The cerebral effects of this strain mean that you will most definitely be able to use this to control minor medical complications. The mood lifting abilities can be used to get rid of stress and depression. Meanwhile, its increase in focus will help you work more effectively. The indica part of this strain will also help you cure any chronic pain.
It is also extremely helpful in making its users have a calm and stress-free day or even week. It does not put its user to a knock out sleep, but it will definitely depart a level of comfort within its users that will keep them at ease at all times. It is also extremely helpful in controlling nausea and helps its users combat appetite loss and insomnia with ease.
Places to buy Girl Scout Cookies
GSC is a strain that requires careful breeding, otherwise the end product might not be too good. That's why you need to make sure that you buy this strain from a breeder that knows what they are doing.
All things considered, this is an absolutely great strain. While some people might say that it gets too overwhelming, they're just not ready for the big guns. Go ahead and give it a try. The mental effect will be instant and you will absolutely fall in love with this strain.