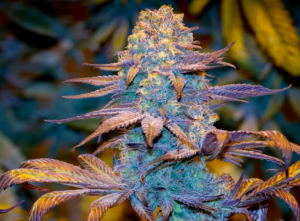 Grand Daddy Purple Cannabis was first bred in 2003 by Ken Estes. Grand Daddy, genetically, is a blend of Purple Urkle and Big Bud.
The buds of this strain can prove to be extremely potent and psychoactive. The effect of these plants can be mental and physical providing relaxation and a calming effect for both mind and body. Your mind will probably be drifting through a million thoughts but you probably won't be able to move till the effects of the strain wears off. GDP is widely used to counteract the pain from physical injuries.
It is also known for its soft and thick smoke and it elegant fragrance and taste. The aroma of this seeds comes from the Purple Urkle while the huge, compact bud size comes from the Big Bud. This strain gives you a sweet grape candy taste with a hint of berry that is euphoric no matter how hard of a day you have had.
GPD has one of the largest commercial yields compared to some other seeds. The plant usually starts flowering during the 60-65 day period and it can be grown both indoor and outdoor. However, growing it outdoors does provide a much better result. GDP grown in full sunlight and colder temperature brings out the purple shade even more than indoor environments. Never the less, the affects of both indoor and outdoor cultivation does not have quite an effect on its properties.
Where to buy Grand Daddy Purple marijuana seeds?
| | | |
| --- | --- | --- |
| Seedbank | Seeds |  Price |
| | 10 Fem | USD $119 |