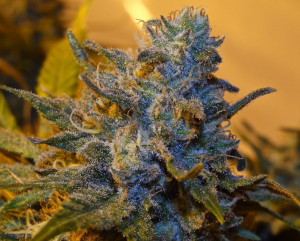 Grape Ape is a strain that is an Indica dominant and was first bred by Apothecary Genetics and Barney's Farm. It is a cross between Mendocino Purps, Skunk and Afghani.
As the name suggests, this strain smells a lot like grape with a citrusy hint at the end. The plant itself is a pretty bulky, bushy and compressed little thing. It has a hairy look with tight internodes and sturdy buds. The dense buds are covered in purple leaves with green and orange hairs which start off as light purple but slowly darken as the plant completes flowering. The flowering period of the strain usually takes 7 to 8 weeks.
Grape Ape is widely used for medicinal purposes to soothe pain, stress and anxiety. Plants from Grape Ape Seeds can only be female. Grape Ape plants are small in length (about 50-100 centimeters) and they can offer a pretty high yield. Grape Ape seeds can be grown in almost any environment like indoors, outdoors, gardens and greenhouses. However, experts claim that these strains grow best in hot climates and they may flower early in these circumstances as well. These seeds have a much higher THC and CBD level than other cannabis seeds, making them quite potent and making sure that you have a good buzz going for yourself.
Where to buy Grape Ape marijuana seeds?
| | | |
| --- | --- | --- |
| Seedbank | Seeds |  Price |
| | 10 Fem | USD $57 |