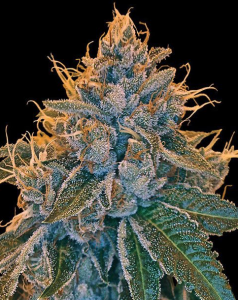 Kosher Kush is the LeBron James of cannabis. Kosher Kush seeds have won the Best Indica award from High Times Cannabis Cup twice in a row and the award for the Best Strain in 2011. This strain was first manufactured by DNA Genetics in Los Angeles. The reason why Kosher Kush is loved all over is its potency. Kosher Kush has a mind blowing THC level of 29%. This much THC content will knock out any amateur smoker. That is the reason why Kosher Kush is one for the most experienced and regular smoker.
Kosher Kush has a very rich earthy and fruity taste with a slightly sour taste which is preferable for the hardcore community of weed smokers. Some ganja smokers claim that this weed is the best flavored weed in the world.
These strains grow best when treated indoors. You could also grow it outdoor but the plant will suffer from the harsh environment outside and that might take away the rich flavor that the Kush is famous for. The plants can grow pretty tall and you're going to have to top the plants to limit the height and increase the yield. Even without topping, the strain can produce a high amount of buds.
Average flowering time is 9 to 10 weeks. This plant requires much more feeding than your average indica strains, so make sure you don't miss that. Add in the hit you get courtesy of the THC levels and you have a winner on your hands.
Where to buy Kosher Kush marijuana seeds?
| | | |
| --- | --- | --- |
| Seedbank | Seeds |  Price |
| | 20 | USD $56 |