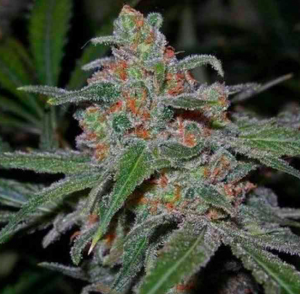 Lemon Skunk was first created in Amsterdam by the mix of two different Skunk strains. Lemon Skunk got extremely popular among breeders almost instantly because of its high yield. Lemon Skunk, as the name suggests, has a very citrusy lemon flavor that crawls through your mouth giving that much-needed sense of euphoria and soothes your mind and body. With THC content of about 15% to 20%, Lemon Skunk gets you high for a long, long time.
Lemon Skunk is a little harder to grow than most plants due to specific environmental needs and factors that it needs to grow perfectly. The seeds need a bunch of space to grow. Usually, they only grow vertically up to a pretty good height so space becomes a problem when grown indoors.
Most farmers prefer growing this strain outdoors just to have free space for the plant to grow to its full height. The plant also requires support for branches and stem. The one problem with growing these seeds outdoors is the climate. Lemon Skunk can grow well in hot climates with direct sunlight. It can also grow well in humid and moldy areas, but the plant will not be able to grow well if it rains too much in your area.
Flowering can take about 8-9 weeks but the amount of yield will be much greater than any other strains.
But, regardless of the efforts you may have to put into growing this plant are very much worth all the results you may reap at the end.
You can buy Lemon Skunk seeds at the following seed banks we trust.
| | | |
| --- | --- | --- |
| Seedbank | Seeds |  Price |
| | 10 | USD $55 |
| | 10 | USD $24 |