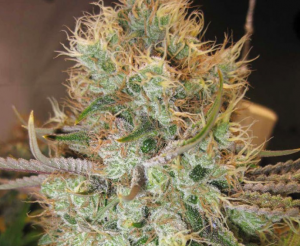 Strawberry Banana has a very fruity flavor and aroma (as it is obvious from the name) and it is must have for every fruit lover out there. This strain was first bred by DNA Genetics with help from Serious Seeds by combining Crockett's Banana Kush and Bubble Gum (Strawberry phenotype).
These strains are famous because of their sweet banana flavor prominent on the inhale and the traditional Kush taste on the exhale. These seeds seems like something only beginners would use. But, rest assured, the high TNC content isn't meant for the soft-hearted smokers. It has a unique effect on the mind and body. It will tune down stress from your body and mind, completely relaxing you. However, it does not dull your mind, it enhances it. This marijuana will leave your senses focused and your creativity sharpened.
This plant is a very potent, dense and rapid-flowering plant that is really easy to grow as well. Novel farmers will have a fun time growing this strain because it won't take that much time. These strains can offer a pretty decent amount of yield and it can produce an insane amount of resin. In the early flowering days, the plant will have a very sharp strawberry/banana type of aroma that will go around your place, giving you a taste of what to expect from this quality weed.
Where to buy Strawberry Banana marijuana seeds?
| | | |
| --- | --- | --- |
| Seedbank | Seeds |  Price |
| | 10 | USD $83 |