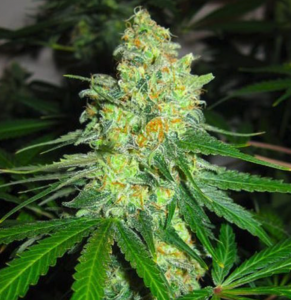 The name of this strain is pretty self-explanatory and explains it taste, aroma and genetics pretty well. If you're a pro smoker then you probably already guessed it, if you didn't, this strain is a mix of NYC Diesel and Strawberry Cough.
The combination of Strawberry and Diesel probably seems crazy to most people. But, the people who have used this strain didn't complain. The thing about these strains is that they're highly versatile when it comes to getting rid of medical issues. They can treat pain and depression just like any other form of cannabis. They can also get rid of insomnia, make your appetite better and even give you that kick you need in the morning.
It can act as both a before-bed and mid-day weed. However, novice smokers should be aware. Headaches and dizziness are a common side effect. Strawberry Diesel will hit you like a baseball and it will hit you fast. You might want to sit down for this hit of weed. Otherwise, you might end up falling down and may even seriously hurt yourself.
Strawberry Diesel is an even blend of Sativa and Indica. These seeds are perfect for growing indoors. They can also be grown outdoors but only if the climate is moderate. They don't do well with hot climates. Flowering takes about 9 to 10 weeks and in the late few days, the fruity smell of strawberry and the potent aroma of diesel will be more prominent than ever, making it perfect for just anybody out there.
Where to buy Strawberry Diesel marijuana seeds?
| | | |
| --- | --- | --- |
| Seedbank | Seeds |  Price |
| | 10 | USD $65 |